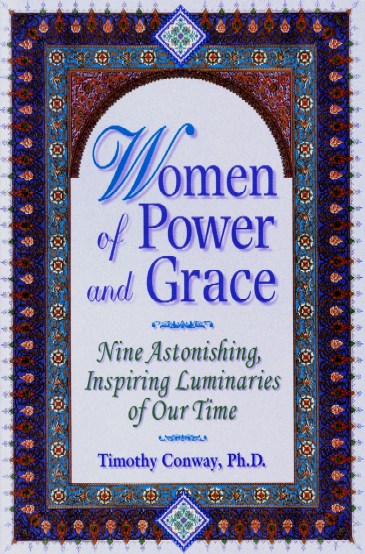 Women of Power and Grace: Nine Astonishing, Inspiring Luminaries of Our Time
by Timothy Conway, Ph.D.
In this highly-acclaimed, eye-opening book, meet nine of the greatest holy women of the modern era, from Hinduism, Christianity and Islam. Here are their deeply moving stories, filled with awesome virtues and compassionate miracles, along with 35 photos and 120 pages of wisdom-teachings on the deepest secrets of God-realization. These illustrious "spiritual champions" live a dazzling goodness. Their shining deeds and joyous outlook will inspire us to join them in the ecstatic freedom and beauty of our Divine Being—Pure Spirit, Infinite Love! So come meet...
Frances Cabrini. This Italian sister learned the secret way of uniting with God to powerfully love and serve suffering souls, founding 67 charitable institutions.
Therese Neumann, joyful German stigmatic/visionary miracle-worker, she transformed her pain into a means of helping and healing others in a Christ-filled life.
Pelagia the "Holy Fool," a Russian woman of immense sanctity. God led her into shockingly strange forms of behavior and heavenly dimensions of being.
Maria Skobtsova. A Russian émigré to Paris, she ministered to the poor and saved a multitude of souls from the Nazi horror before willingly going to her death in one of the camps as an inspiration to her suffering friends.
Hazrat Babajan. This Afghani princess fled an arranged marriage and went deep into the wilds of nature and the loving heart of Allah to become one of the most powerful Muslim Sufi saints of all time—and lived allegedly some 125 years.
Anandamayi Ma, the Bliss-filled Mother. She was India's "Guru to the gurus" and delightful spiritual empress over most of this century—a profoundly witty sage.
Anasuya Devi, another obvious Divine Incarnation, completely aware from her birth. She raised a family and then became known as "Mother of all," giving a startling teaching on "original innocence," claiming that God alone does all.
Shyama Mataji. This young wife lovingly began chanting to God for 23 hours every day, soon becoming a miracle-worker extraordinaire, a beautiful singer of the glories of the Lord, and a passionate poetess-saint of the highest order.
Mata Amritanandamayi. Ammachi has courageously emerged against all obstacles as a marvelous Incarnation of Divine Mother-Love. World Teacher and Christ-like Savioress, she has transformed millions of hearts with healing Love.
---
What Readers Are Saying About Women of Power & Grace: Nine Astonishing, Inspiring Luminaries of Our Time
"I absolutely love Women of Power and Grace. I was enthralled. The quality of your work is outstanding." -- Linda Johnsen, author: Daughters of the Goddess, The Living Goddess, Fearless Living, Lost Masters: Sages of Ancient Greece, etc.
"I was delighted to find these beautiful and inspiring female role models performing miracles, healings, and ministering divine love and compassion on a par with ... Jesus and the Buddha. ...Reading this book is like receiving a direct blessing from these Christ-like Saviouresses." --The Information Press
"Women of Power and Grace is one of the few great spiritual books dedicated to the Feminine aspect of Divinity, and it should be required reading for every soul. This book is a magical gift of love introducing all of humanity to some of the most significant female representatives of God to appear in recent times. What a joy it is to read of the lives and teachings of these several incarnations of Love, and most especially of Anandamayi Ma and Mata Amritanandamayi. Your carefully researched and lovingly presented book is indeed the best treatment of these great saints that I have read; and I shall treasure it and repeatedly return to it over the years with the utmost gratitude to you for your loving labor." --S. Abhayananda (Stan Trout), author: History of Mysticism, The Supreme Self, Mysticism and Science, The Origin of Western Mysticism, and many others
"How thrilled I was to see your beautiful book. It is a delight—a feast for the soul. The great Mother-heart of God can be experienced on every page." --Richard Schiffman, author: Mother of All and Sri Ramakrishna
"In a day and age when we are lost to the outer forces of materialism and egoism, the courage, unwavering faith, devotion, and joy of these nine remarkable women inspire us to turn inward to reconnect with the source of true wealth and power. ... In rereading for this review, I found the stories as captivating the second time around as the first. ... Dr. Conway offers a thoroughly researched biography of each woman, along with generous excerpts from their own writings and teachings." -- Yoga International
"Finally there is a voice that speaks for the accomplishments of women in this field. These beautiful stories of potently spiritual women fill a void long-tugging at our souls. These self-realized teachers and world servers truly achieve a state of serenity, compassion, holiness, health and happiness in troubled times." -- Whole Life Times (Los Angeles)
"With lucid and lilting diction, Dr. Conway reveals the nature of the heroically spiritual woman... An inspirational study. ... This is a landmark book full of dramatic tales and powerful teachings." --Hinduism Today
"A timely, engaging book. These nine women deserve the title 'inspiring luminaries.' Their graced lives are powerful because their power is graceful." --Brother David Steindl-Rast, author: Gratefulness, the Heart of Prayer
"Women of Power and Grace is an excellent guide through the varied aspects of the feminine, filled with vision, love, wisdom, and authentic spirituality. This book is an inspirational anthology honoring women who have bridged the realms of spirit and matter." --Angeles Arrien, Ph.D., Cultural Anthropologist, author of The Four-Fold Way and Signs of Life (winner of the 1993 Benjamin Franklin Award)
"Dr. Conway reveals deeply moving tales of nine female spiritual champions... After reading this book, I can recommend it highly to anyone searching for spiritual growth. Contemplating the lives and efforts of these women and their words, we are transformed." -- One Church
"This is an important book. I congratulate you on the accomplishment." --Prof. Huston Smith
"A deeply moving history of nine truly outstanding, grace-filled women of Spirit, whose lives completely defy our conceptions of human limitation." --Arizona Networking News
"The author has achieved the feat of writing a book which is intellectual and analytical and at the same time intensely spiritual, indeed, a rare achievement that perhaps owes its inspired presentation to those nine Women of Power and Grace who have permeated his text… This reviewer would strongly suggest that readers should go to this text again and again to savour its richness and benefit from the transforming power of these lives." -- The Mountain Path (one of India's most widely-read spiritual journals, published by Sri Ramanashram)
"These [are] extraordinary figures. ... [This book is] a pleasant relief from much of today's cynicism and dismissal toward spiritual/religious personages." --Rapport: The Modern Guide to Books, Music and More
"Timothy, I'm reading your book now and I have to tell you it's WONDERFUL. Your writing style is so very accessible, and addresses any and all 'doubts' and questions that the reader might have. And the experiences are framed so beautifully and tenderly. It's clear that this is a work of divine inspiration and love. I'm quite inspired and moved by the stories. You are a wonderful writer and I feel that this book should be required reading in all public schools! It truly awakens the reader to the Divine, as well as to the Divine Feminine. It's a 'must read' for anyone on the spiritual path." --Lance White, aka Zany Mystic, host of A Fireside Chat internet "radio" show at www.bbsradio.com.
"Women of Power and Grace is an inspiring account of the lives and spirituality of nine contemporary women-mystics, not only written for our edification, emulation and meditation, but also functioning as a commentary on St. Paul's words: 'There are varieties of gifts, but the same Spirit. There are varieties of service, but the same Lord...' (Corinthians, Ch. 12) We can draw strength and inspiration from these women. Timothy's loving and compassionate literary style helps us receive the grace of a deepened sense of gratitude for all human beings, where the Divine Spirit truly resides." --Sister Mary Bernard Vidal, O.S.B., Benedictine nun and former Abbess
"A well-written book, a work of deep devotion and dedication. ... These lives are historical and contemporary, and not myths or legends. The miracles [of these women], therefore, cannot be denied, and pose a challenge to the modern skeptical mind. The author is to be congratulated for his painstaking effort." --Prabuddha Bharata: A Monthly Journal of the Ramakrishna Order (Calcutta)
"A welcome addition to the study of God-intoxicated women. There is much with which to be inspired in both their lives and teachings." -- Vedanta Kesari: A Monthly Journal of the Ramakrishna Order (Madras)
"These women are the spiritual Olympians who remind us what is possible as part of our human spiritual potential. ... Their lives light the way for us to discover a reality described in the Bible as "being in the world -- but not of the world. ... An excellent gift." --Spirit Link
"These women exemplify the best characteristics of the classical descriptions of mysticism...It will be refreshing for women to see the Divine in a feminine incarnation. This book can serve as a source of encouragement to women from all religious traditions." --Dialogue & Alliance (International Religious Foundation)
-------------
Unsolicited reviews from readers posted at Amazon.com (where WP&G book has a perfect 5 star rating)
[5 stars—highest rating] A life-changing experience, Nov. 26, 2002--Women of Power and Grace indeed! This is the story of nine beautiful souls, all female, all of the modern era, all filled with the love of God. ... Each Saint plays out her individual Divine Romance with mind-boggling determination and Christ-like resolve. From Shyama Mataji, a Hindu, who chanted God's name 23 hours a day, to Therese Neumann, the Catholic stigmatist, who fasted the last forty years of her life, you'll thrill with the depth and amazingly personal relationships each of these Holy Women develop with God. Inspiring is too lame a word. Read it, you'll be glad you did. Who knows, it could change your life. -- From reader/reviewer "skc464", Grass Valley, CA
[5 stars] Great book for reading with the family, Aug 23, 2001--I enjoyed this book when I read it and now we are reading it out loud together as a family. I felt it was important for my children to learn that there have been women on this planet who have done the same kind of important spiritual work for which traditionally only men have received credit. My whole family is enjoying it. Very inspirational, clearly written with philosophical background to give a context to the biographical stories. Especially nice is the fact that different religions are represented. -- From reader/reviewer E. Lisot of Texas
[5 stars] Fantastic Work! April 16, 2000 -- I am absolutely enthralled at the superb quality of work found in this book. It gives a fascinating introduction to these Great Saints, and includes an in depth survey of their teachings. Absolutely recommend this book to seekers on the spiritual path. -- From reader/reviewer Balakrishnan Shankar of Atlanta, GA
Unsolicited review posted at Barnesandnoble.com:
[6 stars --highest rating]-- August 6, 2001--This book is the best of any kind I have ever read. The most life changing book you can ever read! I loved it and am reading it for the second time through. -- From reader/reviewer "gentlezebra@yahoo.com," Idyllwild Art College