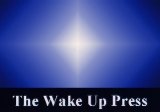 The Wake Up Press
Promoting Excellence in Spirituality
The Wake Up Press is a small, family-owned press that is gearing up for releasing probably in 2019 two exciting volumes by Timothy Conway (major life-circumstance factors have caused a long absence from writing and hence a delay in publishing). The first volume is India's Sages: Nondual Wisdom from the Heart of Freedom, which profiles nearly 40 spiritual luminaries from India's modern era. The second book is an even larger, more massive work on India's treasure-house of texts and sages from her "living past": India's Sages Source Book: Nondual Wisdom from Hindus, Buddhists, Jainas, Tantrics, Sants, Sikhs and Sufis, featuring over 120 wonderful sages and scriptures.
This 2-volume publication by the Wake Up Press promises to be the most comprehensive project ever published on India's great sacred works and holy wonder-workers of past and present.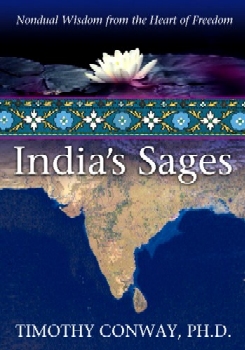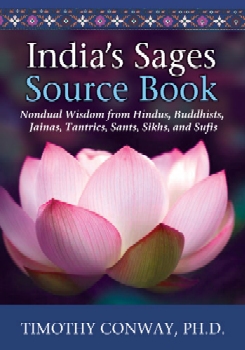 You can read here the more detailed announcement for India's Sages books and view the beautiful covers that Lightbourne design team has created for us.
* * * * * * * * *
In 1994 and 1995 the Wake Up Press published the hardcover and softcover editions of Timothy's Women of Power and Grace: Nine Astonishing, Inspiring Luminaries of Our Time. This book features biographical sketches on each of these amazing women, over 30 photos, and 120 pages of their dazzling teachings on wisdom, devotion, and God-realization. Significantly, with its last and longest chapter, Women of Power & Grace was the first publication for the United States booktrade to present the now world-renowned and much-honored Indian holy woman Amma (Mata Amritanandamayi).
Women of Power & Grace garnered very positive reviews (click on link to read the testimonials) and sold quite well for us, with an exceptionally low return rate for the publishing industry, meaning that readers and booksellers really liked the book and respected the quality of production that we brought to it (unlike too many of the big and small publishers, we didn't use cheap paper and production values).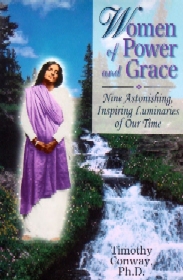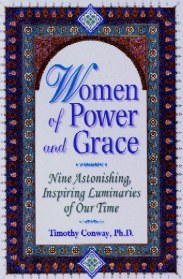 You can purchase from us brand new, discounted copies of Women of Power and Grace by sending to our contact address below a check for $12 for the softcover (normally $16.95 + tax in the bookstores, this special rate also includes any tax and free shipping) or $16 for the hardcover edition (discounted from the retail price of $22.95 + tax; note its different cover, on the left, showing the holy woman Anandamayi Ma of India).
[PLEASE NOTE our change of address, effective July 25, 2016:]
The Wake Up Press
12444 W Alyssa Ln
Peoria, AZ 85383
Phone: (623) 236-9998
Email: t.conway1@cox.net
(note: that's the number "1" not the letter "l" in the email)
You can also buy from us brand new, discounted copies (slightly more expensive) of the softcover or hardcover editions of WPG at Amazon.com's Marketplace Section , where you can pay by credit card. (At this amazon.com site you'll also see offers from other booksellers for used copies of WPG, often marked, underlined or highlighted. Ours are new and unmarked copies.)
---
Why did a male author write a book about women spiritual adepts? Here's the story behind the book.

---
Announcement from Timothy:
As mentioned the Wake Up Press will be bringing forth several new books that I have been working on over the last decade. I have recently (in Fall 2017) uploaded for FREE the 1,200-page-equivalent book, Women of Spirit: Saints, Teachers, Healers, Sisterhoods and Goddesses of East & West. I am also working to finish and publish another huge tome, The Liberating Zen Sourcebook. Then, through our small Wake Up Press, we'll publish the two treasure-books of spirituality from the East, India's Sages: Nondual Wisdom from the Heart of Freedom on tremendous figures from the modern era, and an even larger work on India's "living past": India's Sages Source Book: Nondual Wisdom from Hindus, Buddhists, Jainas, Tantrics, Sants, Sikhs and Sufis.
We also intend, Inshallah ("God Willing," as our Muslim Sufi friends always say), to have the Wake Up Press publish a trilogy that I wrote:
1) Our Religions' Future: Truths, Trends and Challenges for Old and New Spiritualities;
2) Healing Our World: Crucial Solutions for Urgent Problems (A Call for EcoWisdom, Social Justice and Spiritual Liberation)
3) Spirit, Science and Deep Wonder: Discovering Consciousness, Cosmos, Life, Afterlife, & Other-Life.
About the third book, Swami Abhayananda (Stan Trout), an American renunciate and author of many important books, including Mysticism and Science from the UK's O Books in 2007, the first person with whom I've shared the manuscript, kindly says of it:
"Tim, I am reading the typescript of your book, Spirit, Science, and Deep Wonder, and I am bowled over. It is brilliant and amazing.... I have recently been reading all of the popularizations of modern physics available, and there is nothing out there that compares to your treatment of this information.... It is quite special,... really excellent and should be [widely] shared."
----------
And that's not all. Sometime in the future we hope to publish either through the Wake Up Press or one of the major publishers a book I've been wanting to do for many years (the manuscript is half-finished), Jesus, God-Man: A Cross-Cultural, Deeper Inquiry into Yeshua's Life, Teachings, and Love, based on serious (not flaky) New Testament scholarship by many fine scholars. Given the book's contextualizing of Jesus within the Great Tradition of sages and mystics worldwide, including many Catholic, Hindu, Buddhist, Sufi and Jewish spiritual masters, it promises to be the most "enlightening," provocative, interesting and, well, sacred approach yet made to closely examine Western religion's most famous and influential figure ever to appear.
So thank you, dear readers, for your patience and stay stuned for further developments!
And let me express a big "Thank YOU" for all those of you who have in some way inspired and/or supported our work at the Wake Up Press over the years! It is your Love that makes such work so very enjoyable.